Analyze change of pre-test and post-tes
by Dr. Alex Yu
---
Problem
I would like to compare the responses of a pre-test and a post-test. The dependent t-test tells me the overall difference between two test scores. But I want to examine the detail of the change--how people changed their choices after the treatment.
Solution
There are two ways to examine how people changed the selection--by table and by graph.

By table

Although the procedure "proc freq; table var1 * var2;" can return a 2X2 table, I prefer to use the following tabular method:


proc summary nway; class pre_em1 post_em1; output out=temp1;

proc print data=temp1;


The above procedure would return the output as the following. We can tell that 33 people who chose 'b' switched to 'c' later, 51 people who chose 'c' in pre-test remains in 'c' in post-test ...etc.




               OBS    PRE_EM1    POST_EM1    _TYPE_    _FREQ_



                1        b          c           3        33

                2        b          d           3         1

                3        c          c           3        51

                4        c          d           3         2

                5        d          c           3         7




By Graph

If you want to examine the data interactively, you may use the graphing function in SAS/Insight. In the bar chart when you click on any bar in the pre-test, the corresponding subjects will be highlighted in the post-test.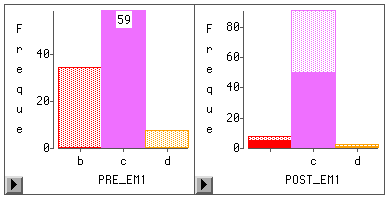 This Quicktime movie shows you how it works. The procedure of making an interactive bar chart is as the following:

Import the data into a SAS library. Select Import from File and follow the on screen instruction. If the data have already been imported into a library, simply double-click the file icon. The dataset will be loaded into a temp library.

Open Global/Analyze/Interactive Data Analysis.

Select the dataset from the proper library.

Select Histogram/Bar Chart from Analyse.

Put one pre-test item and one post-test item into Y.

Click on the button Method. Change "Other" Threshold to 0. Then SAS will show all values rather than collapsing some of them. Click OK to close it

Click OK to plot the graph.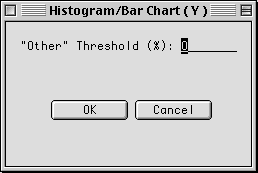 In addition, although a dependent t-test seems to be very straight-forward, you need to pay attention to some possible pitfalls:

First, a ceiling effect would obscure the finding of the true difference. A ceiling effect is that several respondents have mastered the subject matter before the treatment. For example, in the following table subject 1 achieved perfect scores in both pre-test and post-test. Although the difference between two tests is zero, it doesn't mean that your treatment is ineffective.

| | | |
| --- | --- | --- |
| Obs | Pre-test | Post-test |
| 1 | 10 | 10 |
| 2 | 5 | 8 |
| 3 | 6 | 9 |
| 4 | 7 | 10 |

To avoid the ceiling effect, you can simply exclude those "over-achievers.":



	if pretest = 10 then delete;

	proc means mean std n t prt; var diff;



Second, usually when you conduct a dependent t-test, you assume a directional hypothesis and apply a one-tailed test. In other words, you expect an improvement after the treatment rather than just a difference that can go either way. However, the default p-value of SAS is for a two-tailed test. Therefore, when the p-value is 0.10, which appears to be insignificant, the adjusted p-value for one-tailed test should be 0.05 (0.10/2)
---
Navigation
Index
---