¡@
---
§Ú¬O¸­·Oªº«H®{ *¡A
§Ú²`Ä@¬°§A¬èë¡A
¨D¦b¬P¶³¤¤ºK¤U¤@ÂI¼z¨~¡A
·»¤J§A²´ªi¡A
Åý§A¥i¥H
¬°·L¹Ð¯ëªº¤H¥Í¸¨²\¡F
¤]¨D¦b¤Ñªe¤¤Åx¤U¤@¤ù¥ÉÅS¡A
º¯¤J§A©C¨¤¡A
Åý§A¤]¥i¥H
¬°µL²Pªº¦aº»¼Û®§¡C
²×¦³¤@¤é
§A·|¦b¼o¼V¤¤±°¹L¨º¦B²Dªº¥Ø¥ú¡A
¨Ã¨º¤@ÀþªºÐ⯺¡F
Á`¦³¤@¤Ñ
§A·|¦b¯}«°¤U¹J¤W¨º¼ö¦åªºªÍµÆ¡A
¦R¥X¤­¤d¦~ªº®ð¡C
---
¡@
µù¡G¸­·O(Yeats)¬O·Rº¸Äõ¸Ö¤H¡A´¿µÛ¤F¡u¬°§^¤k¬èë¡v¤@¸Ö¡A¸Ö¤§¥D¦®¬°´Á±æ¥Lªº¤k¨à­«µø¤º¤ß­×¾i¹L©ó¥~»ª¡C
¡]³o­ì¥»¬O¨â­º¸Ö¡A©ó¤@¤E¤K¤­¦~¤À§O¥Zµn¦b¡i¶×¬y¡j©M¡iµØ¹´³ø¡j¡A¦b¤@¤E¤E¤C¦~¤Q¤ë¤Q¥|¤ê§Ú±N¥¦­Ì¦X¦Ó¬°¤@¡A¨Ã¥[¥H§ï¼g¡C¡^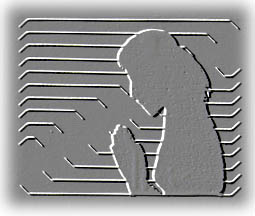 ¡@
As a follower of Yeats, I pray for you.
I wish I could pick a sparkle of wisdom from a Nebula,
Let it fuse into your sparkling eyes,
Dropping a tear for dust.
I wish a jade-like stream flowing from the Milky Way could seep through your
mouth.
Leave you sighing for boundless hell.

Someday you will sweep past an icy gaze and a painful smile in a Chinese ruin.
Someday you will come across a burning stream with righteous ardor,
exhaling five-thousand years of history.
¡@