---
Date: 1991

Co-developer: Dr. John Behrens, Dr. Barbara Green

Software: HyperCard

Media: Interactive simulation

Description: Statistics is considered a dry and difficult subject by many students. In attempt to resolve this problem, this program was written to provide a graphical and interactive environment for beginning statistics learners. The content is based upon the text written by Dr. Larry Toothaker. The program has a built-in tracking function to monitor the use of hypertext by users.
---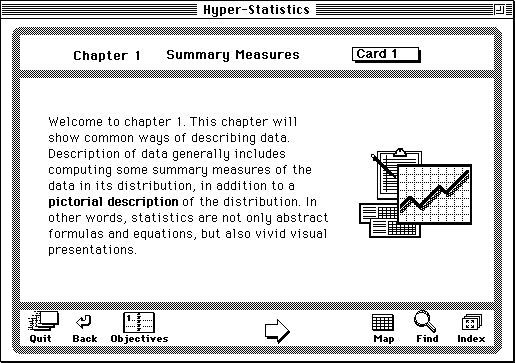 ---
To download and run the program:

Download the binhex (hqx) file of the sea extracting archive (sea). Your browser should convert it back to the original state. If not, please use Stuffit Expander.
Make sure your Mac has HyperCard Player or HyperCard.
Click on the icon Chapter 1 to begin.
Each chapters are standalone and does not link to each other. Please start each stack individually.
---
Navigation
Index
---